Detail of "Potted Flowers 10" by Randall Perkins
Rogue Gallery Open for Mother's Day Weekend!
Art in Bloom this Weekend
Rogue Gallery will be open for Art in Bloom
Saturday 10-5pm and Sunday 11-4
We will have activities for all ages and great art to view.
IN THE MAIN GALLERY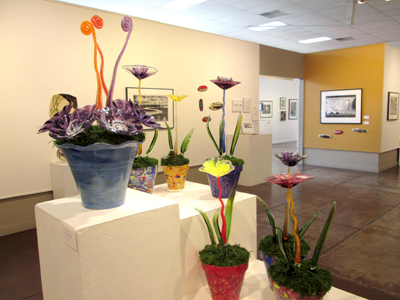 GARDEN FROLIC
Jonnel Covault, Julia Janeway, Randall Perkins
April 22 – May 26, 2016
Reception: Friday, May 20, 5–8pm
This exhibit showcases the work of northwest artists Jonnel Covault, Julia Janeway, and Randall Perkins. All three artists find inspiration for their artwork from nature. Jonnel Covault's lifelong love of the water and wildlife is expressed in her linocuts. Julia Janeway captures nature's fleeting moments in her woodcut-inspired ceramics. Randall Perkins draws inspiration for his glasswork from the ever-changing landscape of his wife's garden.
Sponsored by:

IN THE COMMUNITY GALLERY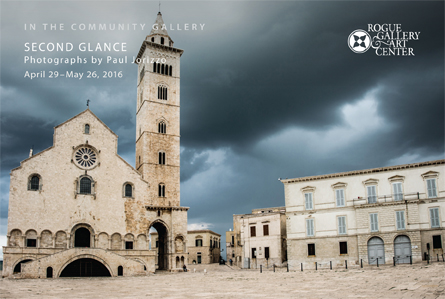 Paul Jorizzo,
TEMPESTA TRANI
, ITALY, photograph
Second Glance: Photographs by Paul Jorizzo
April 29 – May 26, 2016
Reception: Friday, May 20, 5–8pm
Paul Jorizzo's photographs explore unique views of people, cultures, and scenes from his travels.
Sponsored by Ed and Marie Houck
IN THE MEMBERS' GALLERY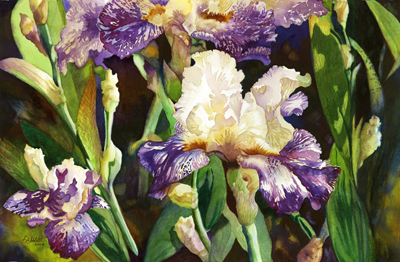 Linda Abblett, 
Summer's Bloom
, watercolor
90 New Works of Art by 38 Artists
Our talented member artists have created new works in oil, watercolor, photography, pastel, acrylic, mixed media, mosaic and more!
See the list of participating artists along with a sampling of their work HERE>>
IN THE ROGUE STUDIO
Summer Art Camps at the Rogue Gallery are now
available for young aspiring artists! 
The summer camps include painting, sculpture, clay, tie-dye, and much more.
For more information and to register, visit http://roguegallery.org/art_kids.html
We have two fun Studio Spirits sessions happening
this month that you will not want to miss! 
Paint That Hops on Friday, May 13, 6-8pm
Brews and Beads on Friday, May 27, 6-8pm
All Studio Spirits classes are for adults, 21 and over
For class descriptions and registration, visit www.roguegallery.org/adult_classes.html
Want to take a Studio Spirits class with a friend for free?
HOW TO ENTER
Follow us on Instagram.
On Instagram, find and like the Studio Spirits photo with the yellow "enter here" sign
Tag a friend
Deadline is Monday May 9th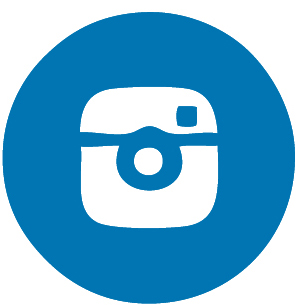 ROGUE GALLERY CALLS TO ARTISTS
Rogue Gallery will be accepting submissions for our Community Gallery and for the Berryman Gallery located upstairs in the Craterian theater. Deadline for submissions for both galleries is June 14. For complete guidelines please see our
website
.
CALLS TO ARTISTS
Artists' Workshop, a group for artists in Southern Oregon founded by the late Jacksonville artist, Elaine Witteveen is sponsoring "The Great Southern Oregon Paint Out, Plein Air Extraordinaire!" a plein air painting event/competition, in conjuction with the Southern Oregon Grape Fair, in Talent, Oregon, June 4th and 5th.  For more information visit their website at http://www.soartistsworkshop.com/events-3/events/

The 4th annual Southern Oregon Lavender Festival will be held in the Applegate Valley on June 24, 25 & 26, 2016.  They are looking for new vendors for this year's festival. See their PDF HERE>> for more information or contact Bonnie Rinaldi at bonnie@lavenderfieldsforever-oregon.com

The Aesthetica Art Prize 2016 is currently open for entries, presenting an opportunity for emerging and established artists to showcase their work to new international audiences and further their engagement in the art world. For more information visit their website at http://www.aestheticamagazine.com/art-prize/enter/