New Exhibits at Rogue Gallery
Community
Gallery
E
xhibit
Impressionism: 150 Years and Still Fabulous

,
Works by Rogue Gallery Artist Members
June 2
–
July 7
, 201
7
,
Reception: Friday,
June 16
,
5
-8pm
Each year the Rogue Gallery & Art Center reflects on one of the great art movements of the past or present to inspire our member artists in their journey of creating original works of art. This year 23 artists created art with the Impressionist Art Movement as their inspiration. Works include paintings in oil, acrylic, and watercolor as well as encaustics, pastels, photography, and collage.
Impressionism originated in France in the mid-nineteenth century, with the emphasis on the visual impression of the moment. The artists working in the Impressionist style seek to capture the reflection of light, atmospheric essence, as well as the immediate emotion of their subject.
Exhibiting artists include:
Susan Austin, Rachel Barrett, Sandra Bartell, Linda Boutacoff, Ashley E. Clasby, Valerie Dann, Ann Di Salvo, Phyllis Earls, Linda Elesiya Evans, Kim Faucher, Cynthia Flowers, Tom Glassman, Howard Hunt, Marilyn Hurst, Zelpha Hutton, Judy Benson LaNier, Dave Mathewson, Anna May, Vivian McAleavey, Kathy Morawiec, Silvia Trujillo, Charlotte L. Wirfs, Walter Wirfs
An exhibit reception will be held on Friday, June 16, 5:00 – 8:00 pm. Wine, Rogue Creamery cheese, and Harry and David snacks will be served.
As part of the Rogue Gallery's Impressionism exhibit we are screening documentaries about important Impressionistic painters on Wednesdays at noon and Saturdays at 2pm. The movies last approximately one hour.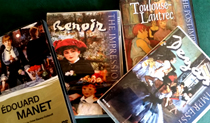 Wednesdays at 12 noon, TODAY!
– June 21, 2017: Edgar Degas
– June 28, 2017: Pierre-Auguste Renoir
– July 5, 2017: Henri de Toulouse-Lautrec
Saturdays at 2 pm, beginning THIS SATURDAY!
– June 24, 2017: Edouard Manet
– July 1, 2017: Edgar Degas
– July 8, 2017: Pierre-Auguste Renoir
– July 15, 2017: Henri de Toulouse-Lautrec
​