Above: Detail of  SAWYER TOOK A CHANCE by Kathy Morawiec
Rogue Gallery April 2017 Exhibits – News
Rogue Gallery will be closed Saturday, April 8th for the Pear Blossom Festival.
IN THE MAIN GALLERY
2017 ARTIST TEEN MENTORING PROJECT
April 14– April 28, 2017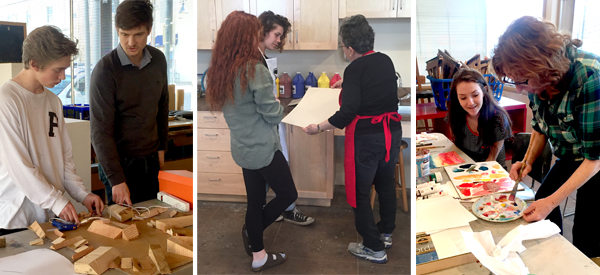 Reception: Friday, April 21, 5–8pm
This exhibition is a culmination of Rogue Gallery & Art Center's annual Artist Teen Mentoring Project that pairs professional artists with Rogue Valley high school students for intensive study and interaction. On display is the creative work of both teens and mentoring artists, which includes painting in acrylic and oil, assemblage, printmaking, pen and ink, charcoal, and sculpture.
Through the program, the students learn new techniques to use in their work, how to present their work in an exhibit, and gain insight to the life of a professional artist. Teen artists had the opportunity to work with an established artist to create art in a variety of media. To be accepted into the program, the teens went through an application process that included a portfolio review, a written essay, letters of recommendation, and an interview. The selected students for the program spent ten weeks with their mentors, learning and practicing techniques and preparing their work for display. The time, talent, and dedication are evident in the quality of artwork on display that includes abstract, expressionism, impressionism, and realistic styles.
Mentor artists are Jenny Calaba, Sheri Dinardi, David Masters, Nancy Jo Mullen, and Silvia Trujillo. Students are from Cascade, Eagle Point, Logos Charter, South Medford, and St. Mary's high school, and include Emma Bennion, Maia Bierwirth, Christina Cannon, Alyssa Dunham, Brieann Fitch, Matt Hearon, Alyssa Patterson, and Sophia Von Haden.
Sponsored by:
______________________________________
IN THE COMMUNITY GALLERY
Elementary Arts Outreach Student Show
April 7–April 21, 2017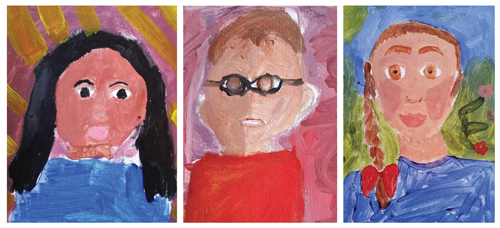 Reception: Friday, April 21, 5–8pm
Artwork by local 5th grade students in the Rogue Gallery's outreach program.
Sponsored by the Lichtenwalner Family
______________________________________
IN THE BERRYMAN GALLERY
In Full Bloom: Kathy Morawiec
March 30 – May 23, 2017
Klamath Falls artist Kathy Morawiec's paintings of flowers
showcase her exuberant colors and brushwork.
The Berryman Gallery is located upstairs at the Craterian Theater.
You may visit the gallery before the Craterian's performances;
see www.craterian.org/calendar for dates.
UPCOMING WORKSHOPS AND CLASSES 
Color Theory for Painters with Craig Honeycutt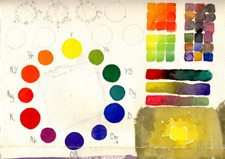 This fun and informative workshop is perfect for beginning artists who want to gain an understanding of the natural behavior of color. Students will learn the seven characteristics of color through a series of exciting watercolor paintings.
Saturdays April 15 & 22, 10am-2pm
Announcements from other Organizations
CALL TO ARTISTS for ROGUE VALLEY BIENNIAL 2017 June 1—July 27


As is the tradition of long-standing biennial exhibitions the Rogue Valley Biennial will present the "art of our time." The Rogue Valley Biennial is a forum for the cultivation, understanding, and appreciation of regional contemporary art.


Awards: 

Three (3) $200 Jurors' Choice Awards will be given on June 2.




This year the Biennial will be held at the Grants Pass Museum of Art. For information see their website 

www.gpmuseum.com
Call the Gallery for more info: (541) 772-8118
Check out more fun activities at: www.roguegallery.org
The Rogue Gallery & Art Center is the Rogue Valley's premier non-profit community art center founded in 1960 to promote and nurture the visual arts in the Rogue Valley. The Art Center showcases emerging and established artists, presents fine crafts by area artisans, and offers a broad range of visual art classes and workshops for all ages.
Rogue Gallery & Art Center is located in downtown Medford at 40 South Bartlett Street. The hours of operation are Tuesday through Friday from 10 a.m. to 5 p.m. and Saturday from 11 a.m. to 3 p.m. We are open every third Friday until 8:00pm.