THIRD FRIDAY, FEBRUARY 17, 5-8PM
MAIN GALLERY
Men at (Art) Work: Miles Frode,
David Masters, Allen Smith
January 11 – February 17, 2017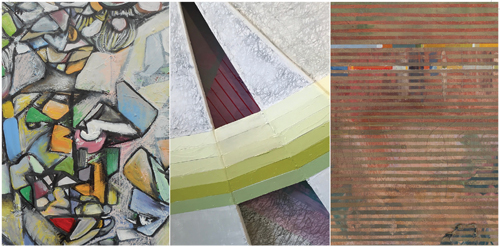 Miles Frode, ESCHER'S WET-NURSE, AND GONDOLIER (detail), mixed media
David Masters, ALL THE HIDDEN PLACES (detail), assemblage
Allen Smith, NOUMENON 9 SYMPHONY OF LIFE (detail), oil
Southern Oregon artists Miles Frode, David Masters, and Allen Smith explore the rational, spiritual, and emotional aspects of the human experience in large scale abstract artwork. Exhibit includes paintings in acrylic and oil, collages, and assemblages.
____________________________________________
COMMUNITY GALLERY
THE ART IN THE LETTER: Calligraphy
by Diane Amarotico and Cynthia Mish
January 13 – February 17, 2017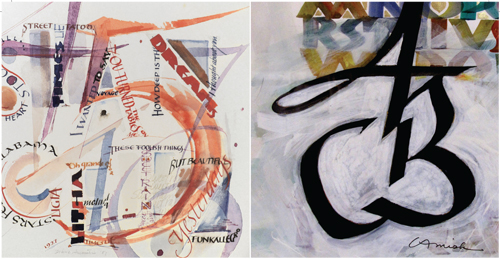 left: Diane Amarotico, 45 (detail), watercolor, ink
right: Cynthia A. Mish, ALPHA BETA (detail), watercolor, gold
Longtime members of the Ashland Calligrapher's Guild, Diane Amarotico
and Cynthia Mish, elevate the written word using wit and beauty.
2nd ANNUAL CELTIC CELEBRATION
Support the Rogue Gallery & Art Center and celebrate St. Patrick's Day with the art, music, food, beer, and friendship of the Emerald Isle, Friday, March 17, 2017, 6:30 – 8:30 pm.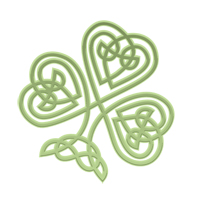 The evening will include:
Irish food and beer
Musicians performing traditional Irish music
An Irish themed art show
A singing competition to select the best rendition of the Irish classic, "When Irish Eyes are Smiling" with the winner receiving a $100 award
The Irish tradition of good cheer and laughter
Cost: $35.00 ($15.00 is tax deductible).
Buy Tickets online 
HERE>>
or call Rogue Gallery at 541-772-8118
CALL TO ARTISTS FOR THE IRISH THEMED ART CONTEST
We invite Rogue Gallery members to submit a work of art for this event that is inspired by Celtic art and/or by Ireland. All styles and media are welcome. Maximum dimensions (including frame) are 40" x 40" and 35 lbs.
Drop off artwork during gallery hours on Tuesday, March 7, 2017. There will be awards for contest winners! Pickup will be on Tuesday, March 21, 2017. Winning pieces will remain on display until Tuesday, April 4, 2017.
COMING UP IN THE ROGUE STUDIO
For Youth
Young Artists' Studio for ages 7-11
with Jenny Calaba
Wednesdays, February 15, 22, March 1, 8, 15 & 22, 3:30-5pm
Perfect class for young creative artists to explore plenty of different mediums while having fun! Partial scholarships are available.
Register here>>
For Adults
Rogue Studio Life Drawing Sessions
Tuesdays, February 21, 28, March 7, 14, 21 & 28, 6-8:30pm
Drop-in on Tuesday evenings for 2 ½ hours of uninstructed life drawing. Ideal for beginner to advanced artists. Drop in or register for one session or for the series.
Register here>>
Beginning Drawing with Craig Honeycutt
Saturdays, February 18 & 25 from 10am-2pm
Wonderful workshop for those that desire to draw and want to learn about drawing tools and techniques!
Register here>>