June 2016 Announcements from Rogue Gallery
3rd Friday Reception This Friday, June 17, 5-8 pm
IN THE MAIN GALLERY

BLENDING POETRY & CLOTH
Studio Art Quilt Associates
June 3 – July 29, 2016
Reception: Friday, June 17, 5–8 pm
This exciting fiber exhibit features thirty-eight juried quilts from the Studio Art Quilt Associates (SAQA) of the Oregon Region. SAQA member artists use color, texture and motion to blend poetic expression into intricate cloth creations. SAQA began in 1989 to represent fiber artists and to further quilting as an art form.
Sponsored by:

IN THE COMMUNITY GALLERY
Melinda Whipplesmith Plank:
State of Jefferson Impressions of Glacier
June 4 – June 30, 2016
Reception Date:Friday, June 17, 5–8 pm

Woodblock prints by Northern California artist, Melinda Whipplesmith Plank. This artist captures the natural beauty of the State of Jefferson in woodblocks featuring rich colors and textures together with energetic lines.
More June 2016 Announcements from Rogue Gallery
Make Art this Summer!

Printmaking Extravaganza, June 28-July 1
For a list of all the camps with their descriptions
visit http://roguegallery.org/art_kids.html
Rogue Studio Life Drawing Sessions start this month!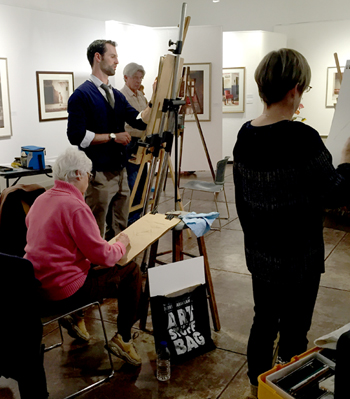 Tuesdays, 6-8:30pm
June 21-July 26
Drop-in rate for one session is $10 or sign up for all six sessions for just $45.
For more adult art classes, visit http://roguegallery.org/adult_classes.html
SAVE THE DATE

Spend a great night with friends enjoying delicious food and wine while supporting the gallery! Our annual fall benefit auction is our largest and most important fundraiser of the year. Check out photos from last year's auction HERE
Rogue Gallery & Art Center's 2016 Auction
Le Moulin Rogue
Saturday, September 24, 2016
RoxyAnn Winery
3285 Hillcrest Road, Medford
5:00 pm
Silent Auction & Cocktail Hour
followed byDinner & Live Auction
Dinner prepared by Jacksonville Inn
Serving RoxyAnn Wine
$65 Per Person
Tickets available HERE
ROGUE GALLERY CALLS TO ARTISTS
Rogue Gallery has extended the submission deadline for our 2017 Community Gallery and Berryman Gallery exhibit series! Priority will be given to those who submitted by June 14, 2016. The new deadline for submissions for both galleries is now July 9, 2016. Click here: http://www.roguegallery.org/calls_to_artists.html  for complete guidelines.
Interested in participating in the members' exhibit "Celebrating 70 Years of Abstract Expressionism"… Drop-off is June 30, July 1 or 2 during gallery hours. See our calls to artists HERE>> for details.
SUPPORT ROGUE GALLERY WHILE YOU SHOP
Thanks for choosing Rogue Gallery as your NonProfit Organization for your Fred Meyer's Rewards Card. In June, Fred Meyer sent out email requests to all Community Rewards members to re-link their cards to their favorite nonprofit organization. All you have to do is link your Fred Meyer Rewards Card at www.fredmeyer.com/communityrewards and select Non Profit Organization 88154 (Rogue Gallery & Art Center) as your organization. Then each time you use your Fred Meyer Rewards Card you will be helping us earn a donation from Fred Meyer, at no extra charge to you!
Shop Amazon? Support the Rogue Gallery while you shop on-line at Amazon. Simply shop through smile.amazon.com and  select Rogue Valley Art Association (DBA Rogue Gallery & Art Center) as your organization. Amazon will donate 0.5% of your eligible Amazon purchase to us, at no extra charge to you! Find out more here: smile.amazon.com
Follow Rogue Gallery & Art Center