Art + Workshops + a getaway in beautiful Sedona!
Masterpiece will be in Sedona Aug. 31 – Sept. 29th as the final U. S. city of this compelling Biblical fine art exhibit. Plus two new art workshops!  See all the details below for exhibit and workshop registration:
  "Words In Red, – the Direct, Uncensored, Provocative Words of Jesus"
– August 31-Sept. 29th
 Opening Reception Saturday, Sept. 1st  at 7:00 p.m. at Wayside Chapel
    Sedona is known for its world renown red rock beauty, its dramatic sunsets, it spiritual seekers and its great art. What guests will also find this September is the traveling "Words in Red" fine art exhibit.  Guests and tourists from across the country and the world can stroll through this fine art gallery with Nicodemus at Night, The Woman at the Well, Healing of the Blind Beggar, The Woman Caught in Adultery, the demise of the demon possessed pigs, the crucifixion, the resurrected Christ on the shore of Galilee.  A visual plethora of compelling artistically rendered scenes by contemporary art legends 
Michael Dudash
, 
Ron DiCianni,
Frank Ordaz,
Chris Hopkins,
Glenn Harrington
, 
Mick McGinty,
Dan Chen
 and additionally regionally featured artists sculptor Tom White, Jeannette Tuscher, Caroline Linscott, and Elena Eros
 Join us for the opening reception
at Wayside Chapel
Saturday, Sept. 1st at 7:00 p.m.
N 401 N. St Route 89 A
Mon – Wed. 10 – 5 p.m
Fri. & Saturdays   11 a.m. – 7 pm.
Sun. noon -5.  Closed Thursdays
Regular admission is free
Group and school tours available. Call 541.601.7496  for info
Can't make the show, but want to explore the Words in Red exhibit?   Order the full Gallery Guide here with artist bios, full color depictions and more.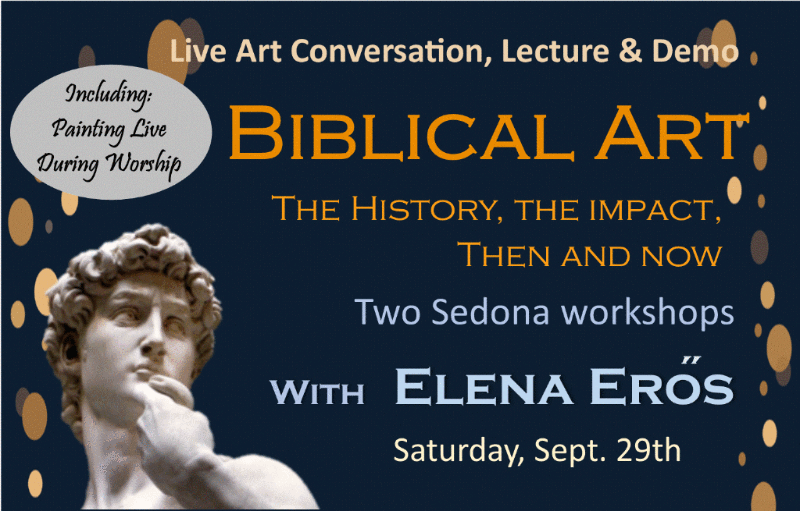 Workshops: Saturday, Sept. 29th
Painting Live in Front of Congregations
12:30 – 2:30 p.m.
>From her many years of experience in this field Phoenix artist 
Elena Eros
 will take guests in this workshop from idea to a concept, from a concept to sketch, from a sketch to final performance piece of art. Consider Art materials, media, canvas size and light. Prayer and research. Dressing up & preparation of the stage. Working with a Worship Pastor and his team. Interaction with people after the end of the service. Talking to the audience and answering questions.  Her many years of experience will help anyone interested in this dynamic and beautiful act of corporate worship to perform with excellence and power.  Perfect for artists or worship pastors wanting to know more about how to incorporate this moving experience into their church.
$30 – advanced registration required
Plus
Bezalel: The History, Impact and Future of Biblical Art
3:00 – 4:30 p.m.
Includes:
Brief History of Biblical Art. Art in Roman catacombs.
Who was Bezalel and his place in God's economy?
The importance of visual art.  Does Biblical Art still exist?
Art & health.  Art and education.
Biblical art and Churches today.  Future of Biblical Art.
Jerusalem's Bezalel School of Fine Art.  You will come away with a depth of
understanding  of this rich heritage and future for Biblical art in culture today.
$15 – Advanced registration or at the door
Or $40 for both sessions advanced registration only
at
Wayside Chapel, Sedona, Arizona
Elena Eros (pronounced Erosh) became follow of Jesus Christ in 1990 in Christ Church in England. She was an active member of Faith Church in Budapest, participating in all aspects of Art Ministry (illustrations, stage decoration, costume designing). She continue her spiritual art journey in England and came to the USA in 2006. Ms Eros was first asked to paint live in Gold Canyon Community Church and since then she has been painting live in Arizona Churches as well as nationally. Elena Erosh is a guest speaker on Biblical Art. She has been teaching Art to young students and adults at Churches, schools, colleges & Community Centers. Her goal is to help bring art back to the Churches, restore the traditions of Biblical Art & teach believers through Godly Visual Art: has been Elena's passion and mission. Bezalel is her favorite Biblical Figure (Exodus 31-35).
Experience the Incredible Music!
Listen now
 to the cinematic-esque original music score for the Words in Red exhibit by international composer 
Willem Van Wyk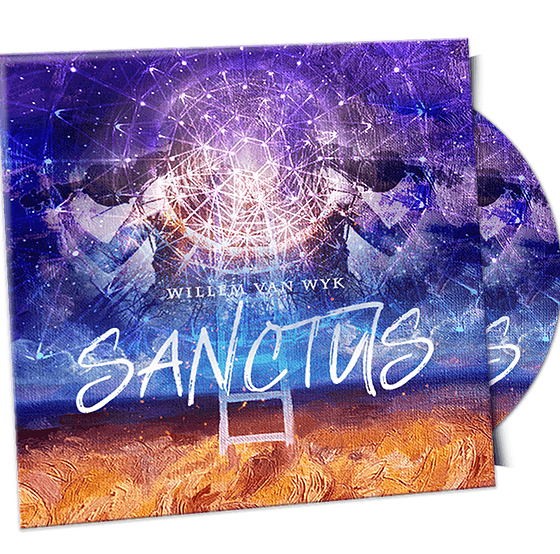 Sanctus
 takes you on a moving journey with a blend of fusion and ethnic world/folk music, rich with haunting vocals (Clara Sorace, Celica Soldream and Victor Sordo) and orchestral grandeur that speaks to the heart. Inspired by the Words of Christ and the artwork of Words In Red, these musical tracks accompany the exhibit experience . 
Listen now and download
 one or more of these compelling melodies.
Copyright © *2017* Masterpiece Christian Fine Arts Foundation All rights reserved.