Detail of Home Invasion, woodblock print by Stefan Wolf
NEW EXHIBIT BEGINNING FRIDAY
IN THE COMMUNITY GALLERY
Deep Impressions:
Handmade Prints by Stefan Wolf
October 11 – November 22, 2019
Reception: Friday, October 18, 5:30-8:00 pm
Stefan Wolf demonstrates his passion for relief printing with his striking hand carved linoleum and woodblock prints. His work reflects on universal themes inspired by orthodox Christianity and Western tradition.
TIME TO BUY YOUR TICKETS!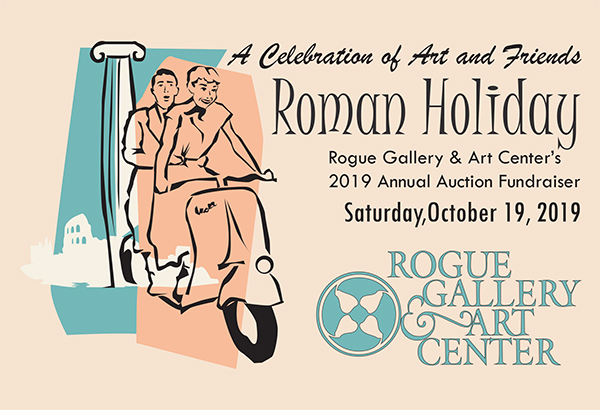 The annual auction is our most important fundraiser of the year.
Please join us.
Rogue Valley Country Club
2660 Hillcrest Road, Medford
5:00 p.m.
Evening includes silent auction, cocktail hour, dinner,
live auction, and live music by "Band du Pays Swing"
Dinner Menu
Mixed Greens Salad with Assorted Toppings and Dressings
Artisan Bread Rolls
Tomato and Mozzarella Salad
(Vegetarian) Pasta Salad
Seasonal Vegetables
Herb Roasted Petite Pearl Potatoes
Chicken Chasseur
Gluten Free Spinach Florentine Ravioli
Chocolate Mousse Parfait
New York Style Cheesecake
Roxy Ann Claret and Pinot Gris Wine
Tickets $65 per person
Purchase tickets HERE>>
UPCOMING CLASSES IN THE ROGUE STUDIO
Rogue Studio Figure Drawing Sessions

All media welcome
All skill levels welcome
Six Sessions, Fall Series: Tuesdays, October 15–November 19, 6 pm–8:30 pm
Six Tuesday evenings for 2 1/2 hours of moderated, uninstructed figure drawing sessions with a live model in the Rogue Studio. Adults 18 years and older from beginning to advanced levels are welcome. The sessions will include short gestures and longer, sustained poses. Students must provide their own drawing materials. Drawing boards, worktables and easels are available for use.
$45 FOR THE SIX SESSION SERIES, $15 PER SESSION
Register Here >>
Figure Painting with Ilene Gienger-Stanfield
All skill levels welcome
Oil or pastel media
Friday-Sunday, October 25–27,
9 am–4 pm
The human figure is an elegant and detailed subject. In this workshop Ilene gives you the tools to successfully address the figure, including fundamentals of drawing, value, edges, and color theory. Using live models and photo references, she will help students with their individual goals and challenges.
MEMBERS $300,
NON-MEMBERS $325 Materials List
Register Here >>
Woodblock Print Making:

Traditional and Modern Methods with Walt Padgett
All skill levels welcome
Woodblock Print Making
Optional after class
open studio 3 pm–5 pm
4 Sessions, Thursdays,
October 24–November 14, 11 am–3 pm
Japanese woodblock prints have been created for centuries to capture a variety of subject matter. Using influences from cultures of the West and the East this class will explore various techniques for creating timeless woodblock prints. Learn a variety of methods to streamline and simplify centuries-old, time-proven, traditional Japanese techniques with world-class printmaker Walt Padgett.
MEMBERS $275, NON-MEMBERS $300 Materials List
Register Here >>
CALLS FROM OTHER ORGANIZATIONS
Habitat ReStores is looking for artists interested in volunteering their skills in designing beautiful designs and painting on their walls, floors, and windows. Contact Alex Jones, ReStore Director at (571) 773-9095 or 
[email protected]
Habitat ReStores is also taking donation of donations of artwork and furniture.
Follow Rogue Gallery & Art Center
Facebook
Twitter
Instagram
Website
The Rogue Gallery & Art Center is the Rogue Valley's premier non-profit community art center founded in 1960 to promote and nurture the visual arts in the Rogue Valley. The Art Center showcases emerging and established artists, presents fine crafts by area artisans, and offers a broad range of visual art classes and workshops for all ages.

Rogue Gallery & Art Center is located in downtown Medford at 40 South Bartlett Street. The hours of operation are Tuesday through Friday from 10 a.m. to 5 p.m. and Saturday from 11 a.m. to 3 p.m. We are open third Friday 5:30 pm – 8:00 pm.