FABULOUS FALL ADULT CLASSES!
Learn with the witty, talented, and technically proficient Tom Glassman who will help experienced photographers get more out of their cameras and more into their photographs.
Thursday, September 13, 2018 7-9pm in the Rogue Studio
Saturday, September 15, 2018 10am-2pm at Roxyann
Saturday, September 22, 2018 10am-2pm in Tom Glassman's Studio
What you shoot is only the start. Learn techniques and how to ask critical questions to capture original artistic flare in your photography.
MEMBERS $120  NONMEMBERS $135  
Register Here >>
. . . . . . . 
Learn the skills to create a gorgeous one-of-a-kind piece under the encouraging guidance of Arlene Warner who will supply the necessary materials and techniques.
Collage Workshop with Arlene Warner
Two weekends to learn techniques and work on a variety of projects including collage paintings and repurposed books.
Session One: Saturday and Sunday, September 15 and 16, 9am-4pm
Session Two: Saturday and Sunday, September 22 and 23, 9am-4pm
Session One: Students will create painted papers using a variety of techniques including Gelli plate printing. Using the painted papers combined with other scraps and fragments, students will make abstract collage paintings in a variety of formats.
Session Two: The class will continue working on collage paintings, sketchbooks, and additional papers. Students will learn finishing techniques that add detail, texture, and depth to their work.
Materials fee payable to instructor at first class.
FULL WORKSHOP TWO WEEKENDS: MEMBERS $260, NON-MEMBERS $300
SINGLE WEEKEND: MEMBERS $150, NON-MEMBERS $170 Register Here >>
. . . . . . . 
Walt Padgett is an award winning woodblock printmaker with years of teaching experience. Printmakers, don't miss this class!
Woodblock Printmaking with Walt Padgett 

4 Sessions, Thursdays 11am-3pm, October 25 to November 15, 2018
Woodblock Prints have been created for centuries to capture a variety of subject matter. Using influences from cultures of the West and the East this class will explore various techniques for creating timeless woodblock prints.
MEMBERS $290 NON-MEMBERS $300 Register Here >>
FALL ART FOR YOUTH
Young Artists' Studio ages 7–11 with Jenny Calaba
6 sessions, Wednesdays 3:30-5:00pm, October 24 to November 28
In this exploratory workshop young artists will get their hands in clay, press original prints, construct eye catching mosaics, and much more!

$75 for all 6 sessions or $15 per session—all materials provided
Register Here >>
BEAR CREEK PARK ARTIST VOLUNTEER OPPORTUNITY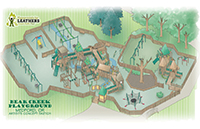 The Medford Parks and Recreation Department is teaming up with JWA Public Affairs, the Medford Parks and Recreation Foundation, the Medford School District, and playground manufacturer Leathers, Inc. to help replace the well-loved playground at Bear Creek Park. They need artists, art teachers, and/or crafts people to volunteer to help fulfil their vision by creating appliques and emblishments for the structures. The days of the playground rebuild are September 28 & 29 and October 1–6. If you would like to participate, contact Sally Densmore at (541) 840-7015 or [email protected]
Follow Rogue Gallery & Art Center
The Rogue Gallery & Art Center is the Rogue Valley's premier non-profit community art center founded in 1960 to promote and nurture the visual arts in the Rogue Valley. The Art Center showcases emerging and established artists, presents fine crafts by area artisans, and offers a broad range of visual art classes and workshops for all ages.

Rogue Gallery & Art Center is located in downtown Medford at 40 South Bartlett Street. The hours of operation are Tuesday through Friday from 10 a.m. to 5 p.m. and Saturday from 11 a.m. to 3 p.m. We are open every third Friday until 8:00pm.