1086 Washburn                                June 2019

Medford, OR                                   Tues-Fri 10-5pm

(541) 779-0272                                 Closed:  Sun & Mon.
Yes, it's true….only 6 months left until Christmas!
I am already looking forward to our annual
Holiday Open Studio  
event this year!
If you would like to be part of our show drop me an email and let me know what you would like to bring to sell.
We have limited space available.
I wouldn't be doing my job unless I start reminding you
that it would be a great time to come in and make a
FLOWERS of HOPE
panel
for this year!
Summer is a great time to come in a make a panel!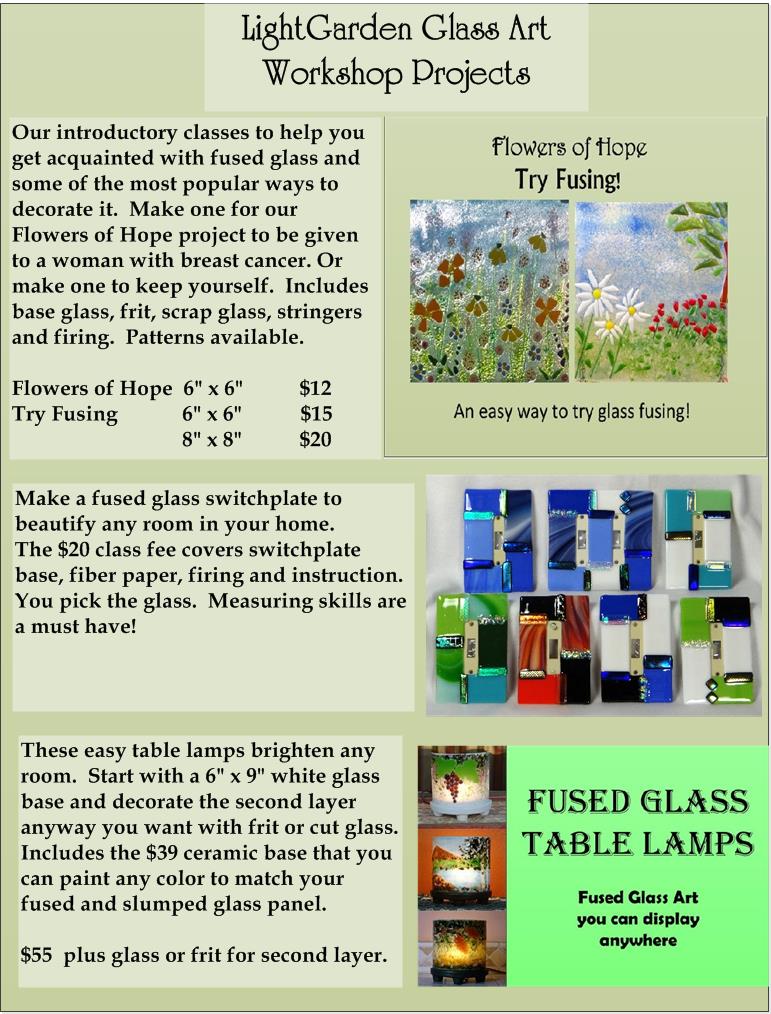 These projects can be done during our regularly scheduled workshops on Wednesday and Saturday mornings from 10 – 12n.  Please call or email ahead to reserve your space.
Mosaic Design Class
This has been the best year for mosaics!  We have lots of different projects going on in different stages.  I can't wait to see them finished!  It's not too late to get in on this project.
We'll help you design your own mosaic by putting together various templates or based on your own drawing, show you ways to lay out your tiles to give your piece more movement, choosing your board or project base, adhesives, using found items and more. 
Continue working on your project during any open workshop or on your own at home.  
NEW*** I will now be including a section on Glass on Glass mosaics.  Let the light shine through!
$30 includes class and materials charge.  
July 13th 
1-3:00pm
Alcohol Inks: Summer Vineyard




This is a great project if you are just starting out in alcohol inks.  Some objects are accomplished by pouring from the bottle, others by using a brush and still others by use of a stamping tool. Good practice in several application methods.   All inks are included.

$25




Morning Workshops:
Come join our morning workshops on Wednesday and Saturday mornings from 10a – Noon.  Use our tools and workshop space.  $10 for 2 hours!  Call to reserve your space.  You can do a Flowers of Hope panel during any of our workshops…or a "Try Fusing" panel to get you started in fusing.  You can also schedule bigger projects.  Contact us for more information.