Art in Bloom at RGAC – May Exhibits
Rogu
e Gallery is Open for Art in Bloom!
Saturday, May 13, 10-5pm &
Sunday, May 14, 11-4pm
Free fun art activities for all ages including a painting contest with prizes. Find great gifts for Mother's Day in our Main Gallery, Community Gallery, Members' Gallery, and gift shop.
Downtown Medford will be filled with fascinating sights and sounds as it hosts thousands of people during this two-day visual arts, entertainment, and cultural event held every Mother's Day weekend. Enjoy fun activities for the whole family including a children's area, music & performances, and over 120 artists and horticulturists displaying their best works.
More about the event HERE>>
IN THE MAIN GALLERY
American Views: Emerging Landscapes
Paintings by Margaret Coe, Susan DeRosa, Margaret Prentice, & Lucy Warnick
May 5 –June 16, 2017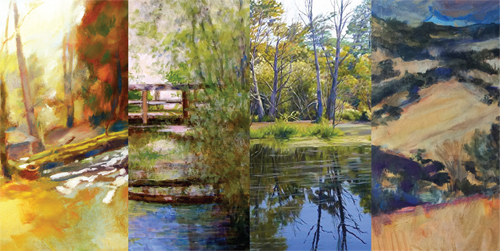 Margaret Coe, WINDOW VIEW (detail); Susan DeRosa, MACGREGOR PARK, OREGON (detail); Margaret Prentice, REFLECTIONS IN LATE OCTOBER (detail); Lucy Warnick, ASHLAND HILLS (detail)
Reception: Friday, May 19, 5–8pm 
Springfield artist Margaret Coe, Jacksonville artist Susan DeRosa, Eugene artist Margaret Prentice and Medford artist Lucy Warnick depict the beauty of the American Northwest working in their unique styles. They create lush landscapes in a variety of media including oil, acrylics, watercolor and mixed media.
American Views: Emerging Landscapes presents four Northwest artists whose paintings capture the unique characteristics and beauty of the Oregon landscape. Artists include Margaret Coe, Springfield; Susan DeRosa, Jacksonville; Margaret Prentice, Eugene; and Lucy Warnick, Medford.
A longtime resident of Eugene, Maragaret Coe received her MFA from the University of Oregon. She has taught art for many years at the University of Oregon, Lane Community College, and the Maude Kerns Art Center. Her expressive oil paintings with their energetic brushstrokes capture the natural ruggedness of the Northwest.
Susan DeRosa received a BFA in Drawing and Painting at Laguna College of Art & Design, Laguna Beach, California. She applies acrylic paint using small brushstrokes to create paintings that glow and reflect light. This technique produces paintings that are reminiscent of the French Impressionists.
Margaret Prentice is currently Professor Emeritus of Art at the University of Oregon where she taught for 26 years. She received her BFA from the University of Arizona and her MFA from the Univ. of Colorado. She has exhibited her work in over 250 exhibitions nationally and internationally. Her lush landscapes in oil are realistic vistas depicting the farmlands and rolling clouds of the Willamette Valley.
Lucy Warnick received a BFA in painting from the University of Oregon and has worked as a teacher and arts administrator in Southern Oregon and Houston, Texas. Her work has been exhibited throughout the country. Viewers will recognize familiar Southern Oregon landmarks in her paintings. Lucy uses bold, uncompromising brushstrokes accented by playful black lines to create her lively paintings.
Sponsored by: 
______________________________________
IN THE COMMUNITY GALLERY
Patterns and Proximity:  Photograqphy by Tom Glassman
April 28–May 26, 2017

Stonehenge, USA by Tom Glassman
Reception: Friday,  May 19, 5–8pm
Medford photographer Tom Glassman is known for his quirky, unusual, and graphic images, which are created in-camera without the use of image editing software.  Glassman uses abstract lines and patterns, unusual reflections, and the juxtaposition of colors and shapes to create images that are at the same time thoughtful and humorous. He photographs found objects with distinct background/foreground layers in close proximity that aren't typically seen together. At first glance, Tom Glassman's photography contains elements of strong composition with balanced color and form. Upon closer examination, the image may reveal a more complex pattern or invite the viewer to engage in a humorous dialogue.
______________________________________
IN THE MEMBERS' GALLERY
May 5–August 19, 2017

Paula Cooper, Ladies of the Evening
Artists Exhibiting in the Members' Gallery
Bruce Allen, L .C. Barnes, Betty Barss, Kristen Beck, Linda Boutacoff, Paula Cooper, Cammy Davis, Denise Segura Edwards, Linda Elesiya Evans, Cynthia A. Flowers, Tom Glassman, Phyllis Gustafson, Claudia Harlow, Nomeca Hartwell, Pam Haunschild, Howard Hunt, Marilyn Hurst, Paul Jorizzo, Judy Benson LaNier, Mary Ann Schofield Macey, Jean Mailander, Vivian McAleavey, Vera Melnyk, Kathy Morawiec, Stephanie K. Nead, Tom Ommen, Darlene Southworth, Sheryl Swift, Greg Thweatt. Silvia Trujillo, Cherri Van Syoc, Doug Wallace, Karen Wallace, Charlotte L. Wirfs, Walter Wirfs
UPCOMING WORKSHOPS AND CLASSES
Youth Summer Camps Now online!
To see class descriptions, times and prices go to:
www.roguegallery.org/art_kids.html
Spring Flower Watercolor
Painting Workshop with Cathy Egelston
Enjoying the spring flowers? Learn to draw and paint them from life! Instruction includes color theory and watercolor techniques. Workshop concludes with students creating a still life watercolor painting from a live flower arrangement.
Saturday May 20,10am-4pm and Sunday May 21, 12-4pm