Registration Is Open
$48.00
For the Brand New Recorded Version!!
The Alchemist's Shield
Because..
these are the days
for new beginnings…
We need to be creative more than ever! This is the perfect time to offer a New Workshop that I have been planning for weeks!
Do you need time to immerse yourself in making some beautiful and intricate art pieces that symbolize protection during this winter?
If the answer is yes, please join me and create two Alchemist's Shields that will work as Talismans, giving you protection, guidance, and support and fill you with creative magic.
This is now a self-study workshop
In my videos I will be your guide as you create two unique and gorgeous shields.
As you watch me work, it will be as if you are in my studio with me, sitting next to me at my work table. You can watch the videos at your own pace and stop and go as much as you like!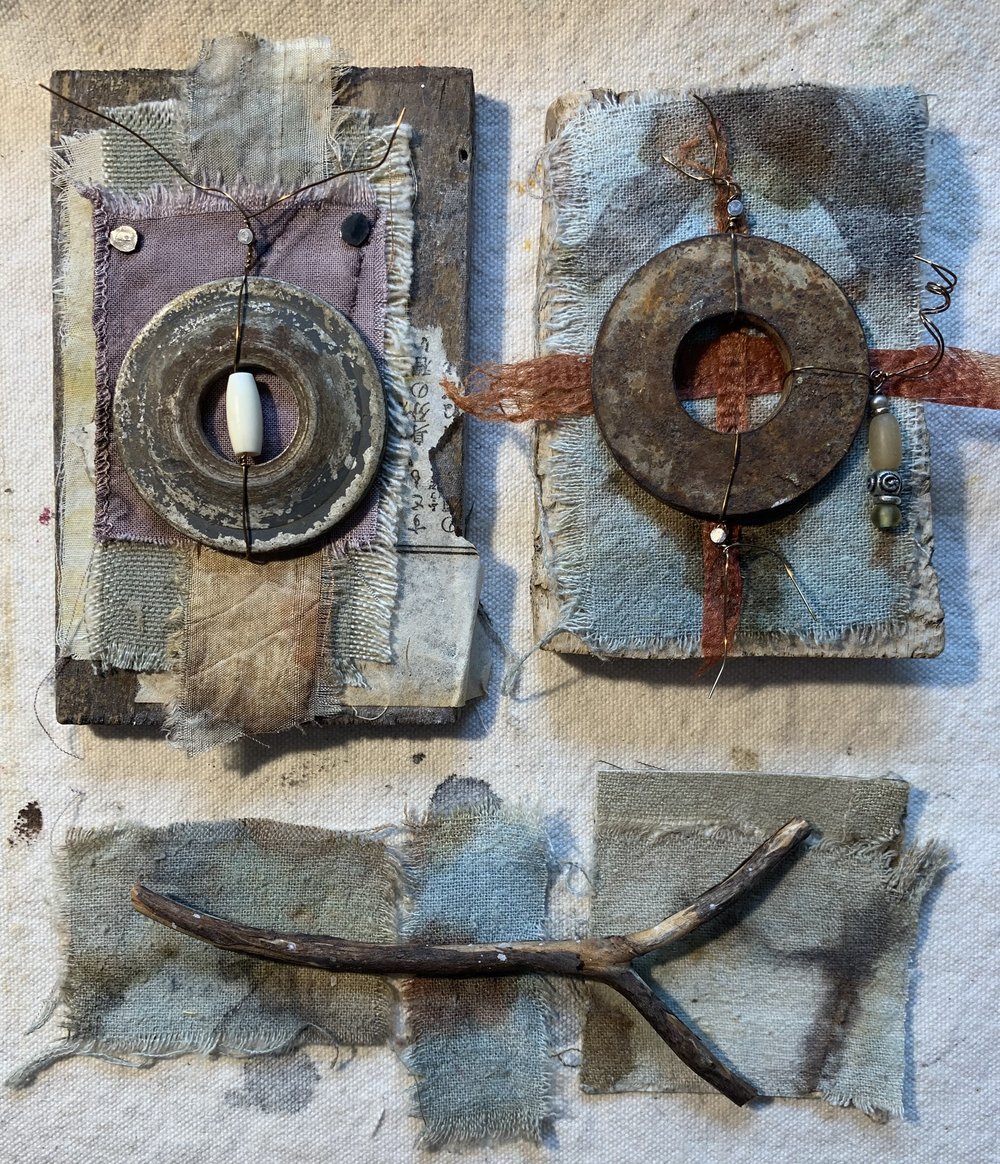 We will start with a scrap piece of wood and a pile of old cardboard pieces and construct, assemble and layer our shield with fabrics and papers and found objects that we love!
We will work with intent so that our shields will hold in them our messages, our hopes, and our dreams for the future. You will be Honoring Your Own Creative Process. And you will love every part of this workshop!!
The Alchemist's Shield Facebook Group is open now with the Supply List which I will post here as well.
*Please make sure the name you register under is the same as the name on your FB account!!
*We will invite you into the group after January 1st. If you do not get an invitation within a week after you sign up, please request to join and include the name you registered under!
Here is the link to the Facebook Group,
*These steps will ensure you get into the group quickly and hassle-free!
IMPORTANT INFORMATION:
Some knowledge of assemblage or a previous workshop with me is advised.

Please consider your Paypal receipt as your confirmation and make sure when you register your correct email is on the form so I can get in contact with you.

You will need to ask to join the Alchemist's Shield Facebook Group as soon as you register.

You will need to have a personal FB account and make sure you are able to stream live videos on your computer.

Invitations will be sent out as soon as possible after I have your payment and FB name.

There will be lots of important guidelines and information in the Announcements section on the Facebook page. Please scroll through! The videos will also be under Videos on the group page.

Sorry, no refunds will be issued for this course.

Access to the videos will be forever, at some point I will move them to Vimeo and my website as well so you can download them.
I am thrilled to be able to share this project with you and cannot wait to see your creations!!
Just $48.00
Supply List for The Alchemist's Shield
small piece of wood, about 5" x 5" any thickness.

scrap pieces of cardboard about the same measurements

collage papers and fabric, small amounts (Think about different textures and weights)

scissors

straight edge

tacky glue or a heavier glue

matte medium, water, paper towels, paint brush

small nails and tacks

awl

string, thread,

wire: two or three gauges, I like natural colors

wire cutters or sturdy scissors

bent nose pliers (optional)

gathered artifacts or relics- I will be using a small old tin, taken apart, rusty metal pieces, rusty fence wire and maybe a small vintage bottle *Other ideas include old earrings, cabinet locks or keys, buttons, etc.

gathered natural objects- I will be using a feather, and a forked twig. Small stones (To use in a mosaic inside the tin) *Other ideas include seed pods, pine needles, dried plants, seed pods, etc.

Beads

needle, wide eyed

small hammer

any other favorite tools or materials!
Beach Flea Market is a wonderful place to purchase unique found or vintage objects!
And Artistic Artifacts is a wonderful place to purchase unique fabrics and papers!