TWO NEW EXHIBITS!
IN THE MAIN GALLERY
Abstract Perceptions:
Paintings by Vince Carl and Susan Lehman
August 11 – September 22, 2017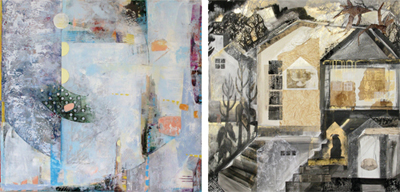 Left: Vince Carl, OVER UNDER SIDEWAYS
Right: Susan Lehman, ALL THAT REMAINS
Reception: Friday, August 18, 5:00-8:00 pm
Rogue River artist Vince Carl and Bandon artist Susan Lehman are lifelong artists. Carl earned a BFA from Miami University and continued studying with Mitch Kaufman-Katz and Pat Enos. Lehman studied fine art and textiles at California College of Arts and Crafts in Oakland and graduated with Distinction. Their abstract paintings are evocative of varied experiences and places with richly textured surfaces created with techniques honed over a lifetime.
 . . . .  . . . .  . . . .  . . . .  . . . .  . . . .  . . . .
IN THE BERRYMAN GALLERY
LOCATED UPSTAIRS IN THE CRATERIAN THEATER
Brushes Behind the Desk:
The Artwork of Rogue Gallery Staff
August 4 – September 27, 2017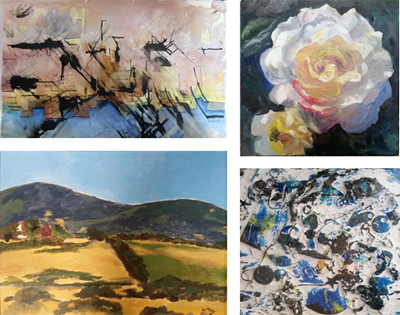 Top, Left to Right: Kim Hearon, MILL CAMP AT JOHN DAY, OREGON, Rachel Barrett, A SUMMER ROSE
Bottom, Left to Right: Anna May, HIGHWAY 66, Ashley Clasby, RUBBISH
Rogue Gallery's staff are also artists. On display are paintings by Executive Director Kim Hearon, Education Director Anna May, Graphic Designer Rachel Barrett, and collagraphs by Gallery Assistant Ashley Clasby.