Southern Oregon Artists Resource is beyond delighted that Art Presence Art Center in Jacksonville is again hosting our annual Angels Show! This is our 9th Annual Angels Show of angel art for Christmas, and the angels are on the wall, waiting for your visit.
Angel Thoughts From the Founder of Art Presence:
December at Art Presence brings the 9th Annual Angels Show. Why, for the ninth year, are we showing such a lively interest in the invisible world? Some of the greatest among the saints and men of God have found a place for Angels. Many of the most difficult questions about their nature, their grace, their intellect, and their love have been addressed masterfully. Their mission has always been to look after each of us here on earth in the pursuit of our salvation. Regardless of our question "why," we invite you to join our artists as they present their unique perspectives on these winged, haloed beings.
~ Anne Brooke
A Little Angel Art History
Angel-like beings have appeared in art for millennia. However, the earliest artistic interpretation of an angel was found in the catacomb of Priscilla in the 3rd century…with no wings! Though there is some dispute about this, the angel is generally believed to be Gabriel, delivering the Annunciation to Mary.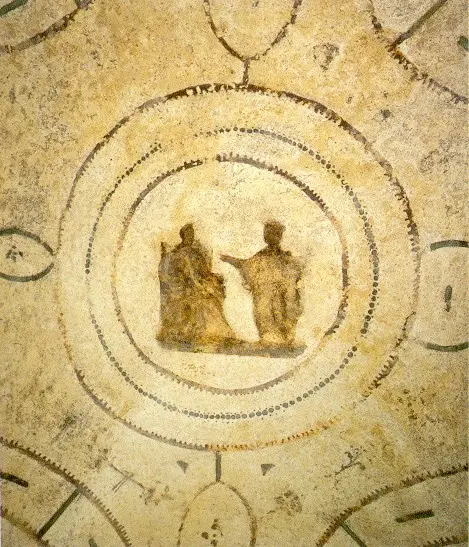 Winged angels first emerged in 4th century Anatolia—on the Prince's Sarcophagus, found at Sarigüzel, near Istanbul (c. 379–395)—the first of many found in Byzantine art. Check out this interesting piece on angels and their wings here, more angel history here, and another on the history of angels in art here.
Meanwhile, humanity's ancient fascination with these celestial creatures continues to this day. Many artists return year after year with fresh artistic interpretations painted especially for the Angels Show with imagination and inspiration. Moreover, many patrons return year after year to add to their collections of angel art and to select angel art for Christmas gifts. Here's "The Guardian," a small yet powerful impressionistic piece in oil by Katy Cauker:
9th Annual Angels Show
Come view the Angels Show from 11am–5pm every Friday, Saturday, and Sunday. At least 2 angels had sold by the time we hung them on the wall, so if you find one that speaks to you, make that purchase of angel art for Christmas before someone else does!
Really? You have enough angels in your own home? Then consider giving angel art for Christmas to someone who needs a beautiful guardian in theirs! Note: Angel art needs to remain in the gallery until the show is over. You might be able to discuss a special angel certificate with the artist if you plan to give one as a gift.
The Angels Show is on display at Art Presence Art Center at 206 N. Fifth Street in Jacksonville, Oregon. It runs from Friday, December 3, through Sunday, January 2. Moreover, the gallery is open Fridays, Saturdays, and Sundays from 12–5 pm.
Watch the Art Presence Facebook page for featured angels throughout the month! Meanwhile, here is the gallery's virtual tour of their December members show, artisan treasures in the Galleria, and the 9th Annual Angels Show to get you started.
Wine and Watercolor — Give an Experience for Christmas!
In addition to our exhibitions of fine art, the artisan treasures in the Galleria, and books written by local authors, there's another way to give the gift of art for the holidays at Art Presence Art Center. You can drink wine with friends and family while you learn how to paint with watercolors together in Anne Brooke's "Wine and Watercolor" workshop! All art supplies are provided, just bring your favorite wine and hors d'oeuvres and enjoy painting in festive company. Give the gift of a wonderful experience that will last a lifetime for Christmas! Call today and reserve a Thursday evening with up to 7 friends & family. $25 per person, vaccination required. Make your reservation today!
To ask questions about the art you see in the Angels Show or to reserve a date for Wine & Watercolor, contact Anne Brooke at 541-941-7057 or [email protected]